As longtime readers will know, I frequently explore new and different ways to cope with my grief – from relaxing with tea, to acupuncture and meditation. Tonight, I attended a special yoga event as part of a bereavement support program and wanted to share my experience with you. Around this time last year, I met Nancy Perlson through a Loving Outreach to Survivors of Suicide gathering. She's a licensed clinical social worker and registered yoga teacher who regularly hosts "Connecting Through Yoga" sessions for those who have experienced a loss. Ahead of the holiday season, Nancy dedicated this 90-minute evening to help survivors take time to remember, reflect and honor the memory of their loved ones.
The timing of this event was significant in that we are approaching a time of light and festivity. She says, "The holiday season – with all of its beauty and splendor – can be an extraordinarily challenging time for those, new and seasoned, travelers making their way through the season of celebrations." Coincidentally, this time also falls during the middle of winter, when days are shorter, dark nights are longer and we face chilling cold. Sometimes, we may need a little reminder to continue carrying the light that we have in ourselves and in our loves ones.
A group of about 20 of us gathered in the quiet, dimly lit yoga studio. Each person arrived to a station that was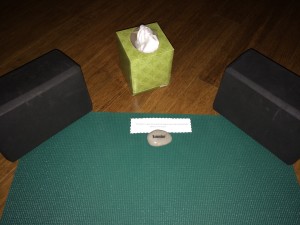 set with all of the props we'd need for the session – a mat, blocks, a bolster and a blanket. Different from other classes, this one also had boxes of tissues nearby and a quote about love and loss at the foot of the mat. As participants took their places, Nancy came around and encouraged each of us to take a stone engraved with the word "remember" from a pot in her hands. We then placed the stone at the head of our mat and used it to inspire and draw our intention and focus for the rest of the yoga practice. Before we began, each person proceeded to the center of the studio to light a candle in memory of their loved one, saying their name aloud. While we didn't mention how the person died, I know that not everyone there experienced a loss to suicide. But, that didn't matter. There were people from all walks of life and who had lost children, spouses, parents and friends. But, we all knew we were connected by the love for someone who is no longer with us through their earthly presence. By the time the last person lit their candle, it was quite a
beautiful sight. The display of candles became the centerpiece of the room and shined brightly for the rest of the night.
For the next hour, we were guided through gentle yoga sequences and encouraged to observe the way our bodies and breath responded to the flow of positions. I really haven't been much of a yoga person, despite many attempts to give it a chance. But, I did feel different about this one, knowing that I was there for a different reason and that it was a way to connect with my dad in my own quiet and spiritual way before Christmas. The practice ended with the usual shavasana, which is the short rest period at the end of a class during which attendees fully relax on the floor and clear their minds. I had entered the class in a bit of a flustered mindset – tired from a long and stressful workday and also the thoughts running through my mind about why my dad took his life. On the way there, I even pulled up the last photo I knew to be taken of him before he died (about 5-6 weeks prior) and tried to look deep into his eyes to see if I could "see" the hurt he must have been hiding. That further sent my mind racing.
By the time the class concluded, I was fully relaxed, rested and reinvigorated. Even though no one spoke during the class besides Nancy, I felt a connection to everyone in the room, knowing that we were united through these emotions and desire to continue carrying on the light of our loved one.
If you live in the Chicago area, I encourage you to check out future Connecting Through Yoga offerings. If you are further away, you could still embrace any yoga class and focus your intention for that practice on honoring your loved one.
And, as I have said before, tea, acupuncture, meditation or yoga might not be "it" for you. But, you should certainly feel comfortable pursuing and experimenting with the outlets that make you feel most comfortable in your grief journey – especially during the holidays. Take care of yourselves during this special time and do just as much as you're up for. If it feels right, you might start to think about how you will incorporate your loved one into the holidays. I fondly remember going to Christmas Eve service with my dad and have made a point to go in the years since, even if I'm alone. It gives me an hour to reflect before the craziness of the night. I have also started a tradition of donating the money I would have spent on his gift to a charity he liked to support. I am not quite ready to watch home movies of Christmas' past – but perhaps that could happen in the future.