This week has been a particularly challenging one for me, with several brutal reminders that my dad is no longer here. I've been surprised by the fact that I actually feel angry about this and even "robbed."
In an exciting development, my husband and I are in the process of buying a home in Chicago. This is a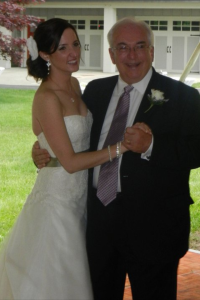 decision we've been swaying back and forth about for the past year, but we finally decided to take the leap when our "dream" home popped up for sale. Over the past few days, I have been filled with a variety of questions that would have been easily answered by him… "Are we being smart with the offer?" "Do you think it's important we address this particular issue with the inspection report?" Even from his legal standpoint, "what do you think about the seller's response to our concerns?"  Instead, when these questions arose, I had to think of who else I could share them with. Luckily, my father-in-law and some of my husband's crafty uncles were able to help. I really appreciated their wisdom and it got us where we need to be. However, I still felt somewhat "deficient." Like, I didn't have my own dad to ask and had to burden them. I felt a bit angry toward my dad for leaving this life when he still had so much more parenting and dad "stuff" to do. I thought back to a few summers ago when I moved in with my husband and he came down with a rented UHaul to help me do that without even thinking. Another part of me acknowledged that I was able to figure out a lot of this house stuff by using some of the "tools" he instilled in me growing up – being resourceful, doing research, weighing decisions carefully before making them, etc. And, maybe that was enough, he did spend 30 years as my dad and I learned a lot from him. Of course, life can still go on and we can find our way, but frankly – his absence just stinks.
This week I also took a business trip to New York City and was reminded of how he used to call me upon taking off and landing to make sure I got to my destinations ok. Sometimes these calls annoyed me because I was usually in the security or cab line, but in hindsight, it was just nice to know that he was watching the clock during the day, ultimately CARING about me and my well-being. I know that others still do, but he just had this special dad way of doing so.
Another thing I missed about my dad this week was our "like" minds, especially when there were minor disagreements in the family. My dad and I were talkers. We liked to get on the phone or discuss in person matters that flustered us – even if it was unnecessary and bringing us undue worry. We would talk about all avenues of the issue and weigh different approaches and outcomes and usually seemed to be in the same place, mentally. I liked that he always wanted to talk it out, even if sometimes, he over-exhausted the topic.  This week, I was really bothered by a silly little thing, but no one was there to listen and talk to me about it. I kept wracking my brain trying to decide who to call about it but realized that there was no one who filled those shoes in the specific way I needed them to be filled that day. And, I was bummed about it.
Missing your loved one after death is natural and a feeling that might never go away. Think about all the hats that person wore – a parent, a child, a sibling, a breadwinner, a homemaker, an accountant, a professor, a counselor, you name it. All those roles they played in our lives also went away when they passed. Of course, their lessons and love will remain with us forever, but many of those in-the-moment reminders of their absence trigger the painful realization that they're gone and someone else will likely have to step in to address that task (even if it's yourself). I don't feel this way all the time, but I am just letting myself go through and experience these emotions this week.
Perhaps since he has been so top of mind for me recently, I did have one special "gift" that occurred on the morning of my birthday February 6. This, of course, was another day he would have found a way to make extra special (and only reminded me of his absence). I had a perfect dream about him which started my day off beautifully. He loved Arizona and I had this dream that we were there for some reason. I remember driving through the area and there being hundreds, thousands of rainbows everywhere. Oddly, I thought nothing of them as I was driving, but just recalled how strangely wonderful it was. I arrived at a small church in Paradise Valley and he was there, wearing a grey suit. We met in the narthex of the church and he was smiling and very happy to see me. We spent time laughing and joking and it was just great. Then, as I started driving away, I looked around for him and he was just gone. But, it felt right, like the dream had run its course. I got to see him and have that special moment and he went back to where he was supposed to be and me where I was supposed to be. Given all of the metaphors of the dream, I took it as a sign and a gift that he is where I picture him to be and everything is well. And, I feel good.
Finding ways to continue to carry the presence of our departed can help with missing your loved one after death. But, all of us know as survivors that things will unfortunately just not be the same again without them.