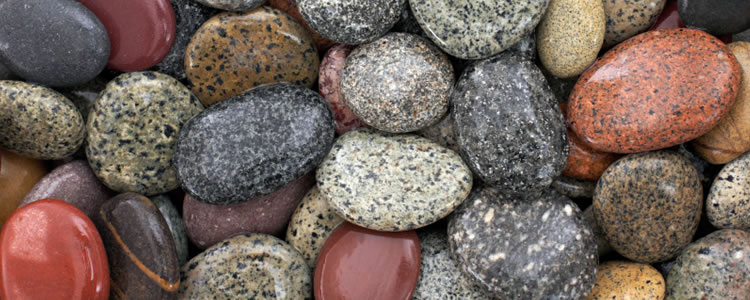 The idea for this post has been swirling in my head for some time, but the topic is a bit difficult to articulate. I'm going to give it my best effort and hope that it resonates with some readers…
I have often wondered about mankind's varying degrees of reaching "rock bottom," especially when it comes to depression. As with any aspect in life, like addiction for example, some people reach their perceived rock bottom and use it as a springboard to bounce out of whatever they're facing. Others view rock bottom as a hole too deep to dig out from and continue heading south. What is it that motivates people to head in either direction?
I can think of two times in my life where I've reached my personal "rock bottom" emotionally. (However, this might even be too harsh a term because maybe what I was feeling was completely normal.) What I mean by this is, I've reached points where I know I'm not acting like myself and where others have noticed and that's what rattles me to head back north. The first time was in the wintery months following my dad's death by suicide. While dealing with the trauma of his passing, the very public way in which I learned of his death, the cold and grey weather and the struggle to find any light at the end of the tunnel, I stopped caring. Life felt awful and ugly to me. I didn't think it was possible for things like this to happen to people "like me." I wasn't equipped to handle it. I remember heading to work thinking that if a bus happened to jump a curb as I was walking by, so be it. I wasn't exactly shy about sharing this with people – especially my grief counselor. To my surprise, she let me know this was not, in fact, an appropriate thought and that I might need to consider taking anti-depressants if thoughts like these continued. I knew this was not something I really wanted to do but I couldn't quite shake this attitude. How could anyone, including a clinician, expect that I would be feeling sunshine and rainbows after what I went through? Maybe I was so vocal because a part of me wanted someone to give me the slap in the face I needed. A few weeks later, I obliged my grief counselor by talking to someone at the next level who would be able to prescribe medication, if needed. As I carefully addressed her questions and concerns, I realized I didn't even recognize the person who was talking – me. What was I saying!? I had/have a loving husband and family, a beautiful home, a job I enjoy and more personal and professional goals to accomplish. I've worked so hard and come so far to just give up and appear indifferent about a proverbial bus heading in my direction. If I continued on in that way, my dad's suicide would have "won." I couldn't let the halo effect of his decision swallow me. In that moment, my mind's compass sprung north. I thanked the woman for her time and told her this was the awakening I needed and that I'd be back in touch if things changed. From that point on, I slowly started to resume life the way I knew it to be before my dad's death. More recently, I shared about my overly sensitive emotions following childbirth. It wasn't until I talked about how I was feeling with a few people did I realize that perhaps I had some form of the baby blues – or the normal and common inability to fully control my emotions during this time. Once I was able to pinpoint the reason I wasn't feeling like myself, I was able to once again make strides in the direction that felt more like me again.
I wanted to share this because we write a lot about looking out for friends and family who may not be acting like themselves. In a perfect world, part of the onus would be on ourselves to come forward EARLY to those friends, family members or even a mental health professional when we think we are in danger of reaching our personal rock bottom. I wonder if my dad had been more comfortable letting us know that something wasn't feeling right inside if we would have been able to "catch" him before things progressed to the point he wasn't able to dig out from – his rock bottom. This is hard to say since so many of those who take their lives go out of their way to hide that anything is wrong – or heading that way. But, that's once they've reached the rock bottom in my mind. There must be some sort of tipping point, right? Before things get so bad that our loved ones could have potentially voiced that something wasn't right and sought out help in some form? This is all part of the woulda, coulda, shoulda's of suicide.