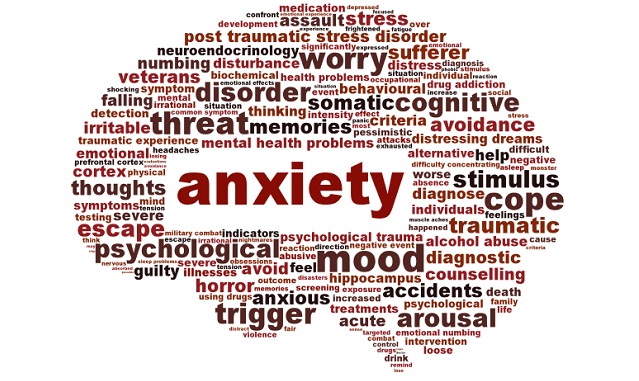 Since losing my dad to suicide, the winter holidays seem to exacerbate my feelings of anxiety. His absence and the dramatic way his death impacted our family traditions becomes painfully clear this time of year. Coupled with this are coincidentally-timed stressful events that only fan the flames of my worries. (For instance, in December 2014, I panicked about returning to work post maternity-leave and felt a bit of déjà vu again this year.) At one point a couple weeks ago – over something others may consider trivial – I experienced a full-blown anxiety attack, complete with tears, shaking and a punched-in-the-gut feeling. In the heat of that moment, I couldn't help but think of my dad.
According to the Cleveland Clinic, "studies have shown that anxiety disorders run in families, which means that they can be inherited from one or both parents, like hair or eye color. In addition, certain environmental factors—such as a trauma or significant event—might trigger an anxiety disorder in people who have an inherited susceptibility to developing the disorder." Therefore, it seems anxiety after a suicide could be quite common among those whose loved ones also experienced it.
Did I inherit this anxiety from him? Did his constant worrying "inspire" my own behavior? Maybe a mix of both? I find myself doing exactly what he did – envisioning the worst outcome to each situation and fretting over how I will get myself out of it when it hasn't even happened. I don't remember feeling this strongly before he died and I am confident the trauma of losing him the way I did has also triggered this in me. Perhaps I'm facing a trifecta for anxiety, so this shouldn't be too surprising.
During my attack, I also thought, "I don't want to feel this way anymore. I hate that my mind operates this way and I want to feel anything but this terror right now." I know this is only a sliver of what our loved ones were feeling…
Even though I roll my eyes at the notion of motivational quotes and visuals that plaster social media channels (it makes me sad that human beings need so much "pepping up" on an everyday basis), I am once again finding the value in things like this to help soothe me. In addition to continuing with my own grief therapist, I tried to think of personal things I can turn to for comfort in times of elevated anxiety – like right now. I decided to buy a couple things this week, which I am a little excited about…an "adult" coloring book to de-stress, some coffee table books with stunning photography to highlight all that's beautiful about the world (in place of the ugly I see in my mind), some new meditation downloads, a visit to my hypnotherapist, a haircut and some mantra bracelets I keep seeing advertised in my Facebook newsfeed. While I know my anxiety and these flare ups are not my fault, I am trying everything I can possibly think of to give me feelings of positivity.
I don't doubt that my dad's suicide aggravated anxious tendencies in my mind. But, what his method of death taught me is that I will not let it get the best of me. It's a tough beast and battle, for sure. I know he fought hard. Unfortunately, after a loss to suicide we, as survivors, are left with many different pieces of baggage and the potential for increased anxiety is one of them.