In the days and months following the loss of a loved one to suicide, it can feel unlikely for survivors to ever see the good in life again. Today, guest blogger Arleen shares how she was able to find herself and the appreciation for what she still has years after the loss of her beloved son.
Arleen's Story
I lost my sweet, loving and brilliant son, Ryan, to suicide in August of 2014. Around ten months later, in June of 2015, I saw an offer to participate in a free online meditation program hosted by Oprah Winfrey and Deepak Chopra. I decided to participate because I was looking for something that would help me concentrate and calm all of the negative thoughts and the sad emotions brought about by Ryan's death.
I remember feeling hopeful the first day of the program, but I was not convinced that I would be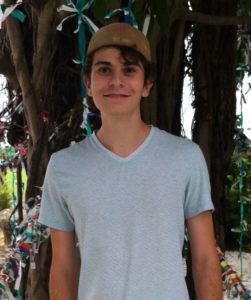 able to sustain attention through the course of the guided meditation. As I started listening, Oprah talked about the path to grace and about being grateful. That alone almost stopped me, because even at ten months into my grief journey, I consciously knew that I had things for which to be grateful. However, grateful was not a word that I could even think of using. Grateful was very far from what I felt when I thought of my life and my current situation. How can one be grateful for anything when one has lost a child?
I tried to do two more consecutive days of the meditation, but again Oprah kept bringing up the word grateful and it completely turned me off. That word actually offended me somehow. At the time, it felt like an insult to me when the whole reason I was searching for something to help me is because I was drowning in the grief of losing my beautiful, beloved boy. I felt like I had been cheated out of a normal, happy life and as much as I tried, I couldn't muster up any gratefulness. While I was grateful to have my daughter, family and friends, the pain of losing my son eclipsed the idea of being truly grateful in life then.
Here I am two and a half years after losing Ryan, and although I miss my boy every single moment in very significant and very minute ways, I am able to feel grateful again.
I am most grateful for my daughter, who gave me a reason to go on immediately after losing Ryan and for our relationship, which continues to blossom. I am grateful to have such an amazing family, including extended family, who are always there to support me in so many ways. I am grateful for dear friends, both friends from long ago and new friendships formed as a result of losing my Ryan. There is something about the support and understanding you receive from those who are walking in your shoes that is unexplainable. I am grateful for my doggies who are always around to give unconditional love. I am grateful for my job – a job that allows me to directly touch children and affect the future every day.
I am grateful that although child loss changes you forever, I have still been able (after some time) to retain the essence of who I was. I am grateful that with the help of family, friends and even strangers, we have been able to fund the Ryan Abreu Memorial Scholarship. I am grateful for the gift of music. I even find myself being grateful for tiny things, like getting a free refill of chlorine at the pool store the other day, which is what brought me to this thinking. I am grateful for many other things, too.
Finally, although I would give anything to change the fact that my sweet boy was depressed and felt that he could no longer continue living with his pain – and there are no words to describe how much I love and miss him – I can now say that I am grateful that I had a wonderful 19 years with the most loving, witty, creative, humble, intelligent and considerate person I've ever known. I am grateful that I am now able to feel grateful again.