Guest blogger Michelle shares a candid personal piece about the loss of her husband to suicide, the difficult conversation with her son that followed and finding strength through that fragile moment.
The Tiny Fragments
My husband John always did Halloween well. He did two costumes every year: one to match me for the adult parties we went to, and one to match the kids when we took them Trick-or-Treating. I never cared to partake in this free-candy-athon or to dress up with the kids. I'd always stand back on sidewalks and street corners pretending to take pictures with my phone when, truth be told, I was really just playing on social media.
Don't judge, you parents out there know that these kid-centered holiday rituals are boring as hell.
If John was bored by this ritual though, he never let on; he'd walk hand in hand with our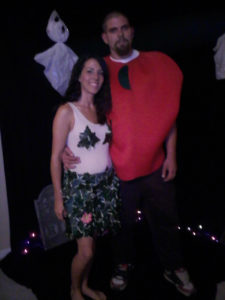 son and daughter to each door being particularly sensitive to whether or not the surroundings were too frightening. If they were, he'd decide if he should carry them or just take the kids to a different house altogether.
With an uncharacteristic patience, he'd teach them how to collect treats at each door, when the shock of getting free candy while playing dress up, still paralyzed the kids as preschoolers. He'd of course collect candy for himself and every year without complaint he'd give me all the chocolate he had earned. He knew I loved chocolate, and I knew he loved me.
I miss believing that lie. Now I don't know what to believe. Did he ever love me? Did I ever really know him? Why did he do this to our children? Was it really my fault like he'd said in his suicide note?
I am in my bathroom recalling the memory of John at Halloween to erase the anger rising up in me, so I will be able to sleep at least a few consecutive hours tonight. The only problem with removing the anger though, is that it will inevitably be replaced by sadness and sadness makes me sleep for days. Which is worse, no sleep or too much? Shaking with rage all night, or being comatose from the pain of good memories?
I want to be drunk but I can't be tonight, so I will be full. I am ravenously eating all the chocolate I have just stolen from the kid's glow-in-the-dark candy sacks, hoping by some miracle that they won't notice tomorrow morning.
Okay fine, you can judge me now.
I couldn't walk my son and daughter to the doors tonight like their dad had once done. I am not ready to fill his shoes. I am too weak, too broken. Too checked out. I left the task of door-to-door candy fetching to the grandparents; who are also broken beyond measure but somehow seem stronger than me.
Everyone seems stronger than me.
The rubber string of those flimsy, dollar store Halloween masks that walked by me all night seemed stronger than me. I am in pieces. Small, insignificant fragments.
My son Garrett walks into my bathroom without knocking. His mask is off, but he's still wearing the clothes of his Minecraft character. I panic that he will see the Kit Kat bar I am hoarding so I start shoving it into the pockets of my skinny jeans like the good little chocolate junkie I am. He looks sick.
"What's wrong buddy? Got a tummy ache from all the candy?"
"No." he says with an uncertainty in his voice and his shoulders slumped down, "I think I'm sad."
"Really, about what?"
"I think…." And then his little chin begins to quiver and his face begins to contort, like it did when he would hold funerals in the back yard for his dead tomato worms as a kindergartener, "I think I am just missing Daddy," he confesses, and the tears stream down his baby face.
This is only the third time he's ever cried over his dad.
I close the toilet lid, sit, and offer him my lap. He lets me cradle him like a baby. How long has it been since I've held my son like this? Will it be the last time?
"Daddy was always so much fun on Halloween, wasn't he?" I say without any tears of my own.
"Uh huh," he says and then cries some more. "Mom, I don't want this to make you sad but I have to tell you something, okay?"
"Okay, just say what you need to say Buddy, I'll be just fine" I reply.
As if I have a choice.
"I just really miss daddy because he was my favorite and I,….I just liked him more than I like you…and ….I think about how if you would've died and not daddy then I wouldn't be the only boy in this house." He nervously looks at my face for a reaction. His uncertainty makes me feel an unspeakable tenderness towards him.
"That's true," I speak softly. He relaxes "Daddy always did more fun things with you than Mommy did, and it must be lonely to be the only boy in the house." I surprise myself with this empathetic statement. I silently wonder why his proclamation didn't obliterate the tiny fragments that are left of me. John was his favorite. He wishes I were dead instead of his father.
I feel helpless as Garrett cries harder. His tears and snot are running down my arm as I hold him. There are no words to say so I resort to primal motherly sounds of comfort, while brushing the hair from his forehead with my fingertips.
My sounds are worthless, he only cries harder. I go silent, resigned to the fact that all I can do is rock him.
He cries louder, with moans and shutters, and deep staccato chest heaves.
I sway my body back and forth even though he is eight-years old and so big and awkward in my arms that I hurt. I sway even though the chocolate in my pocket is being melted. I sway even though I know I am powerless against his pain and longing and confusion. I just sway.
After several minutes he gradually sits up, uses my sleeve as a tissue, and says, "I'm gonna go to bed now Mom, thanks" and leaves after a brief hug as if nothing happened. My arm begins to tingle as the blood rushes back into it.
I cry about his pain when his footsteps are out of earshot. I cry about how I just spent Halloween with my own father walking next to me and my children won't ever do that again. I cry about all the things Garrett will want his father present for and how those desires will never be met. I cry about my fragility, and then about the guilt over allowing myself to be so fragile. I cry that I was too weak to escort my children to houses tonight. I cry because I cannot get the semi-melted Kit Kat bar out of my pants pocket, and I need chocolate.
Chocolate will fix everything. I take off my pants….Just keep on judging me.
While prying the shiny red wrapper out of my pocket I begin to smile. At first it is at the ridiculousness of me standing in my bathroom in my underwear trying to salvage the last bits of chocolate and wafer from my ruined, too-tight pants. Then my smile turns into a grin and my grin turns into a laugh. I am laughing at myself, then, I am laughing at myself for laughing at myself. Then I am crying again only to be interrupted by more fits of my own laughter.
I am really cracking up, I think as I lick the chocolate from my fingers.
How can I possibly be laughing after what my son just said to me? I pull myself together and replay his words, I just really miss daddy because he was my favorite and I,….I just liked him more than I like you…
He knew his comment had the potential to hurt me, but he said it anyway. He was not trying to be rude or hurtful, it was just simply his truth and for some reason he knew he could speak this truth openly with me.
It was as if he didn't know how delicate I am.
It was as if he thought I was dependable and comforting.
It was as if he thought I was easy to talk to.
It was as if he thought the tiny fragments that are left of me are strong, and if he thinks all these things about me, they must be true.
About the Author 
Michelle is a full time mother and part time professional napper living in San Diego, California with her best friend, their five children, and a dwarf bunny. She is the author of  the memoir, "Boys, Booze, and Bathroom Floors: 46 Tales About the Collision of Suicide Grief and Dating." She hopes to use her writing to help validate the difficult emotions of others as they navigate the world after the loss of a loved one to suicide.