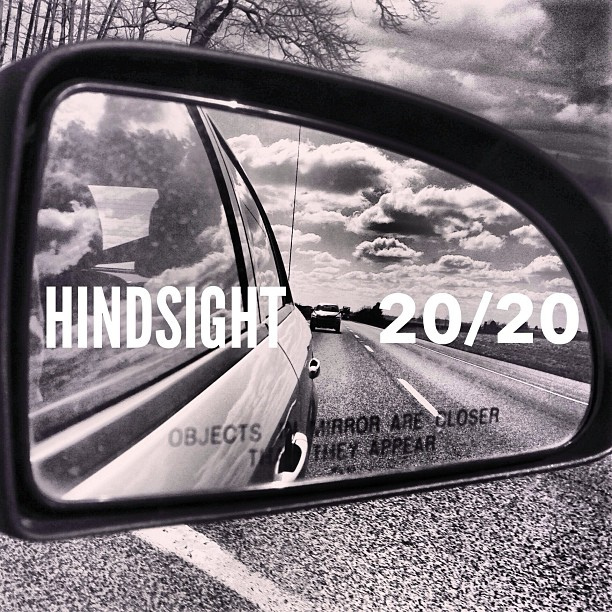 How often have you said to yourself, "I should have known?"  Or, "I should have been able to prevent this?"  There is a reason they say, "Hindsight is 20/20."  Everything is perfectly clear AFTER the event.  Every behavior, every action, every word all hold new meaning.  It can be difficult not to blame yourself for your loved ones' suicide if you are looking through the hindsight lens.
It is unclear why letting yourself off the hook is so difficult after a suicide loss.  We often talk about how we would do things differently if we knew then what we know now.  My high school self would have been completely different had I known then all that I know now.  But it simply isn't possible to go back.  Life experience provides new insights and teachable moments.  A suicide loss is a life experience.  How can you expect to prevent a suicide, when you didn't know then what you know now?  Of course, those words, actions and behaviors have new meaning.  We now know what they were leading to.  We know the ending, yet we still feel like we could have changed the story.  The thing is, you likely couldn't have changed the ending.
Some may view hindsight as a bad thing.  I tend to think that having hindsight can provide teachable moments; we just have to change the way we use hindsight.  You can either utilize hindsight to strengthen the weight of guilt, or you can learn from it.  There are many things that I would have done differently had I known then what I know now.  But, I can't go back.  Instead, I am more observant of those around me.  I tell people how much I care about them.  I listen with an open heart and an open mind.  I reach out when I know someone is going through a difficult time.  I ask the tough questions.  Being present in the present has helped me redirect my hindsight and release the overpowering weight of guilt that I carried on my shoulders for a long time.  So, let yourself off the hook.  Acknowledge that you didn't know then what you knew now.  Most importantly, live in the present, and learn from what you see in your rearview mirror.