This week marks an unbelievable three years since my dad's death. As I was developing this post, I almost included the word "anniversary" in my title. However, I realized that term usually has a happy connotation – like with a wedding – and I didn't feel like using it this time around. Some days, it feels like he left us only yesterday, but on other occasions, it feels like so much longer. I've had new jobs, a new house, a new car and a new baby on the way all in this timeframe.
One question that will continue to permeate me is how long he had been considering suicide as an option. To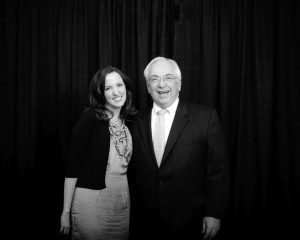 me, it all seemed to happen so quickly. I found this picture from a fundraising event we attended together at my high school just four months prior. I mean, look at that smile – it seems genuine, even in his eyes. How could suicide have been on his mind? I honestly don't believe it was at the time. Or, if it was, I was sure duped. We laughed and laughed because the photographer thought I was his date instead of his daughter and tried to have me pose with my hand on his chest. We spent the rest of the night telling that funny story to others.
The Turning Point
I started to notice a change in his behavior shortly after my wedding, which was two months before his death. Work and other stressors just seemed to consume him and he lost interest in his usual activities. Nothing seemed to cheer him up. However, as I mentioned in a post last week, it wouldn't have even occurred to me to think that suicide was on his mind because he once told us that "nothing could ever be so bad in life that we'd have to resort to it." (Granted, this was about 20 years earlier.) We all figured he was in a slump. And, frankly, if someone has never shared that they have been feeling suicidal, why would it ever occur to you this could be on the horizon? I've been struck by all of the commentary about Robin Williams and how we should be more vigilant about watching for warning signs. This is the old and guilt-ridden hindsight that can grip survivors. It still won't sink in to people who haven't experienced this. I personally don't feel like I have any regrets, though. What I feel is plain-old sadness that he chose this path and that he's gone. I am now thankful that I have this newfound awareness of depression, mental illness and risks for suicide as I look around at the relationships I have with others. Though I wasn't able to "catch" my dad before this happened, I feel I have a deeper appreciation for how quickly depression can escalate. I won't just focus on trying to cheer someone up anymore because I now realize it's much bigger than that. It could be a "slump," but it's safer to assume it's more.
The New Normal, Three Years In
Unfortunately, this has left me one terrified, on-edge and anxious person. I've over-compensated a bit. Maybe I've become too vigilant. Not just about suicide, but about anything that could catch me by such surprise and despair again. I check more than ample times before making a left turn for fear of being struck in my car. I consider other ways I could drive so that I could avoid this happening. I've increased calls to my mom to near daily – compared to the once or so monthly times I'd call home when my dad was alive. I won't even get into the list of worries I have about my daughter. I think this is just part of the new normal survivors experience when a loved one dies this way. Here, they thought they were lifting their burdens from us in death, but they really only just introduced us to them. If my dad knew I would still be carrying this "baggage" for three years, would he have reconsidered? How could he have predicted this? This is one more reason why we want to share our stories on this blog. We want people to see that survivors left behind are shackled by a lifetime of newfound baggage.
Throughout this time, I've been seeing a counselor, I've tried bereavement yoga, I've tried acupuncture and most recently – hypnotherapy (hypnosis, which I'll share more about in a future post). But, that huge, invisible bag is still there on my back. Sure, I've learned some skills on how I can cope through harder times and how to try and calm my own anxiety. But, the fact is, I will never be the same person I was before this happened.
Time has helped to take away the sting and that initial, hopeless haze I felt in the early days. Now, this suitcase is just something I am learning to live with. I laugh and smile and am able to appreciate the beauty in life. All of the things I've experienced in these three years (from my marriage to the jobs to the house and baby on the way) have brought me more joy than I could have imagined. But, I'm going to keep proactively exploring these various forms of therapy and treatment because I also need to be vigilant with myself (in addition to watching out for others). That's one of the "gifts" I promised to give myself in this new normal. Of course, it's time and money I'd rather not spend, but my health, wellness and ability to cope with my dad's suicide are priorities I will never sacrifice.
Thinking of you today and always, dad!