Since my dad died by suicide four years ago, I've continued to debate how much of a "choice" he really had at the time. On the surface, it seems simple. He chose to take his life and stop struggling with depression and anxiety. He chose not to stay and spend more time with his family and work. He chose the time, place and method to end his life. However, the more I learn about suicide and the crippling effects of mental illness on a person, the less clear I feel about his choice being so black and white.
A while back, I wrote about the difference between depression and a "slump." Never thinking suicide would cross my dad's mind, I attributed his change in demeanor to a temporary slump he would eventually shake. As I dug deeper, I learned depression can feel mentally and physically paralyzing – like the world is caving in and there is no longer a light at the end of the tunnel. The thought of death, as finite, terrible (and irrational) as it sounds, is more appealing than continuing to live through this nightmare of a cave. I couldn't imagine having to make such a "choice," and I am confident it was the most difficult one my dad had to make. Do I think he really wanted to have to do so? Absolutely not.
Similar to how the body may eventually shut down when fighting a life-threatening disease, those battling the despair of mental illness can also stop functioning. In one case, people die naturally after a fight and, in ours, a loved one died by their own hand. Thus, it is perceived they had a choice and chose to stop fighting. Sometimes people who are fighting a lengthy illness without the promise of full recovery do seek medical intervention to stop their pain, perhaps by ceasing life support. Yet, those deaths don't seem (to me) to carry the same stigma around choice. In extreme cases, maybe there's no guarantee a loved one could be forever cured of their mental illness. Many readers can attest to this based on numerous suicide attempts by a loved one and even pleas for their pain to end. Why don't they have the same option to end "life support" (medications, therapy, hospitalization, etc.) without shame? As my therapist recently reminded me, my dad also didn't choose to have anxiety or depression.
I think it's easy for society to look at someone battling depression and expect him or her to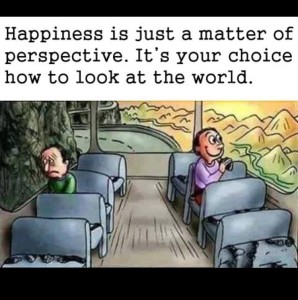 simply look through life with a different lens. A cartoon suggesting just that inspired the idea for this post. Considering what I shared above, I don't think that's fair to ask of anyone. We are very quick to assume someone has fallen into a "slump" and has the ability to put on rose-colored glasses and feel better. This does not pay respect to the weight of mental illness or the dark cave a person may be living in. As a survivor of suicide, a cartoon like this also makes me want to yell, "it's not that easy!" If it was, I'm sure my dad would still be here.
I have raised this topic with my grief therapist many times, particularly when I come up with a supposed reason for why my dad killed himself. "Oh, it's because he was worried about money, or work…" She always refutes me by saying, "but there are many, many more people who have money and work problems and do not take their life."
So, how much choice is there in suicide? While society may say 100%, I don't believe I will ever have a hard and fast answer on the role it played in my dad's suicide. It's so much more complicated than that. I don't feel comfortable saying he chose to die and leaving it there without adding all of these accompanying questions and thoughts.